Guan Eng, Malaysia Is Under Raja-Raja Melayu
Penang Chief Minister Lim Guan Eng is forgetting his place. He should remember his station in life and not get carried away with his position as a Chief Minister of a Chinese state. The only reason he is Chief Minister, and Penang is a Chinese state, is because the Federal Government does not wish to give Penang back to Kedah. If not Penang would not be Chinese and would not have a Chinese Chief Minister. It would have a Malay Menteri Besar who would be living in Alor Setar.
Selangor comes under HRH the Sultan of Selangor. So who is Guan Eng to decide whether the three PAS EXCO Members should be retained or should be sacked? That is for HRH the Sultan of Selangor to decide, not the Chinese Chief Minister of a Chinese state. In the first place, Selangor Menteri Besar Azmin Ali did not ask the three PAS EXCO Members to resign, as Guan Eng says (SEE NEWS ITEM BELOW). So how can Guan Eng agree with something that Azmin did not say?
Guan Eng and that father of his have been lying about so many things over the last three years. One lie is going to see him sent to jail, though, the lie about the house he bought which was actually a pay-off and corruption however you wish to label it. And, just like Anwar Ibrahim who got convicted three times for corruption and buggery, Guan Eng is saying he is innocent and that he is a victim of a political conspiracy.
Pakatan Rakyat challenged the Sultan three years ago and lost
It is time the DAP people be reminded that the states — other than Penang, Melaka, Sabah and Sarawak — come under the Raja-raja Melayu. The Raja-raja Melayu are all highly-educated and they know their business. HRH the Sultan of Selangor has been ruling first as Raja Muda, then as Pemangku Sultan, and now as Sultan for more than half a century since 1960. So HRH knows his job and he can quote the Selangor State Constitution and the Federal Constitution of Malaysia by heart.
Back when Pakatan Rakyat wanted to sack Selangor Menteri Besar Khalid Ibrahim and replace him with Anwar Ibrahim, and then with Dr Wan Azizah Wan Ismail, they tried to teach the Sultan about the powers and authority of a Constitutional Monarchy. They told the Sultan that the politicians decide what happens and that the Sultan takes orders from the politicians. They even got so-called 'constitutional experts' to teach the Sultan how to read and understand the Constitution. Instead, the Sultan taught them a lesson by appointing Azmin Ali as the Menteri Besar, the choice of PAS and someone who PKR and DAP would not endorse. In the end the Sultan gave them a classic in-your-face.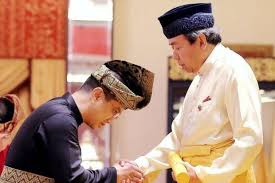 Azmin kowtows to the Sultan and not the other way around as Guan Eng thinks
Azmin already told HRH the Sultan that the three PAS EXCO Members are going to be retained and that it will be status quo until the next general election. And that is the final word on the matter. If Azmin wants the three PAS EXCO Members to resign that will only happen if Azmin also resigns together with those three PAS EXCO Members. If not it is not going to happen.
So, Guan Eng, shut your mouth. Selangor comes under a Raja Melayu. And the Raja Melayu, not a Chinese Chief Minister from another state, decides what happens in Selangor. Now go get someone to translate this article of mine into Mandarin so that you do not lose the essence of what I am saying.
Oh, and if your DAP Red Bean Army cyber-troopers want to attack me and call me a racist, as usual, silakan. I am just saying what millions of Malays feel and in the next general election in 2018 the Malays are going to teach the DAP-led Pakatan Harapan a lesson you will never forget till the day you die. So be prepared to get slaughtered.
*****************************************
Azmin did not ask PAS excos to resign, says aide
(FMT) – An aide to Selangor menteri besar Azmin Ali has denied a report that he had requested the three PAS assemblymen in the state executive council to step down.
His political secretary Mat Suhaimi Shafie said the media report that Azmin, who is PKR deputy president, had asked the trio to resign was inaccurate and a "spin".
"As far as I know it never happened," Suhaimi told FMT today.